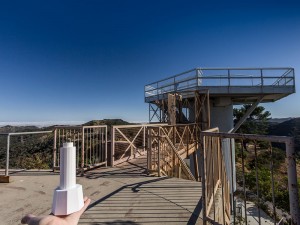 The National Cold War Monuments and Environmental Heritage Trail is featured in a new exhibition resulting from the Monument to Cold War Victory design competition. Running October 7-November 7, 2014 at the 41 Cooper Gallery, the exhibition marks the launching of Field Reports, a new TLC Service initiative to collect public nominations of environmental heritage trail sites in the United States and its network of extra-territorial military bases around the world. Two to four minute DIY videos have been submitted by members of the public, and additional submissions will be accepted on an ongoing basis. The exhibition also features works by Yuri Avvakumov, Aziz + Cucher, Kim Beck, Constantin Boym, Camel Collective (Anthony Graves and Carla Herrera-Prats), Sasha Chavchavadze, Christoph Draeger, Deyson Gilbert, Francis Hunger, Szabolcs KissPál, Angelo Plessas, Lisi Raskin, Dread Scott, Dolsy & Kant Smith, Société Réaliste, and Michael Wang.
Monument to Cold War Victory is a conceptual project by the artist Yevgeniy Fiks, taking the form of an open-call, international competition for a public, commemorative work of art. For over two decades, public signifiers of the Cold War, such as the Berlin Wall, have been framed in terms of destruction and kitsch. A monument created at the moment of its own destruction, the Wall encapsulates the continuing geopolitical imagination of the conflict as linear, continuous, binary, and terminal: the culmination of a historicized narrative of competing empires. But while the impact of half a century of sustained ideological struggle still reverberates through all forms of public and private experience—from Middle Eastern geographies of containment to the narrative structures of Hollywood—its conclusion has yet to be acknowledged through a public and monumental work of art. The Cold War, the longest and most influential conflict of the 20th century, has no publicly commissioned commemoration in the United States.
Recent geopolitical events, including civil war in Syria, the Edward Snowden affair, LGBT rights in Russia, and the unfolding military conflict in Eastern Ukraine reveal the legacy of the historical Cold War as unstable and unresolved. By invoking the enduring genre of war monuments, memorials, and publicly commissioned artworks, this project invites a provocative re-engagement of those forms. How might the legacy of the Cold War, in all its complex—and often invisible—material, social, and cultural forms, be visually articulated? In what ways might the notion of "victory," implicit in all retroactive commemorations (and historical revisions) of conflict, be interpreted?
In November 2012, The Committee for Tacit History (Fiks and curator Stamatina Gregory) issued an international call for proposals for a monument to the Cold War to be built in the United States. Unrestrained by budget considerations, and untied to a specific place, the call implied an invitation to imagine socially based, utopic, dystopic, or ultimately unrealizable projects. In April 2013, a jury including Susan Buck-Morss, Boris Groys, Vitaly Komar, Viktor Misiano, and Nato Thompson considered nearly 200 submissions and selected 17 finalists, whose proposals comprise this exhibition. These artists, from the United States, Europe and former Soviet republics, and Latin America, are diverse in their formal and conceptual strategies, their approach to material and ideological history, and their take on monumentality. Collectively, they wield the conceptual form of the public commission as a potent form of political imaginary.